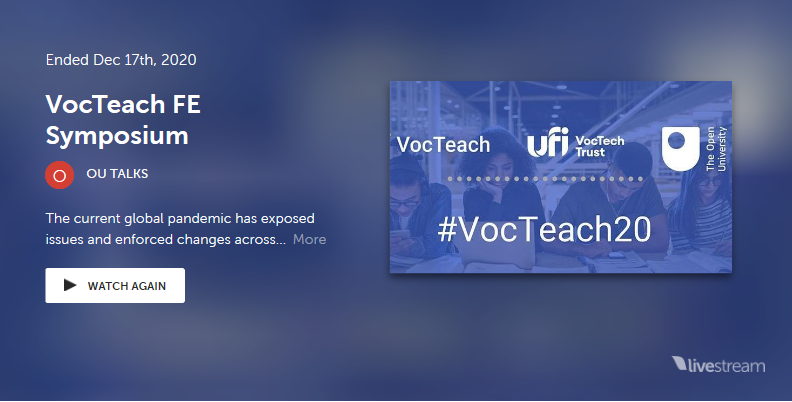 On the 17th December 2020 The Open University's VocTeach Project hosted the #VocTeach20 Symposium, and here's a chance to watch the replay. The event itself was online and worked as a hub bringing together individuals within the FE (Further Education) sector with over 100 attendees. The goal is to provide Further Education teachers and vocational educators with the best teaching resources available. Resources from a collection of providers, including examining bodies, publicly available resource banks, and individual colleagues, will be aggregated by VocTeach's bespoke system, developed by the OU with the support of Ufi VocTech Trust. Read more about the event itself on the KMi News article.
Towards the end of the symposium attendees were put into break-out discussions, where feedback was gathered using Mentimeter polling tool,  from a broad set of stakeholders who were in attendance. John Domingue said: " It was an extremely stimulating afternoon discussing the issues and challenges associated with supporting FE with educational resource aggregators and technology in general. We learnt a lot. Interestingly we found that there is strong support for exactly the type of platform we are developing (rated 4.4 out of 5 in a poll of the attendees at the end). We remain committed to working with all relevant stakeholders to ensure we deliver a platform which will bring real value to the whole FE community."
Overall, the symposium was a great success, we hope you stay in the loop, receiving early access to exclusive content, such as future events. Stay signed up to our newsletter, and follow us on Twitter, LinkedIn and Facebook.